Property Management Software
For Microsoft Dynamics NAV with Soft4realestate.
Soft4RealEstate is a flexible solution for businesses that own or manage residential, retail, office or industrial properties. Based on the Microsoft Dynamics NAV platform, you can enjoy all the advantages of a fully featured property management system with a comprehensive business management solution that helps your people work faster and smarter.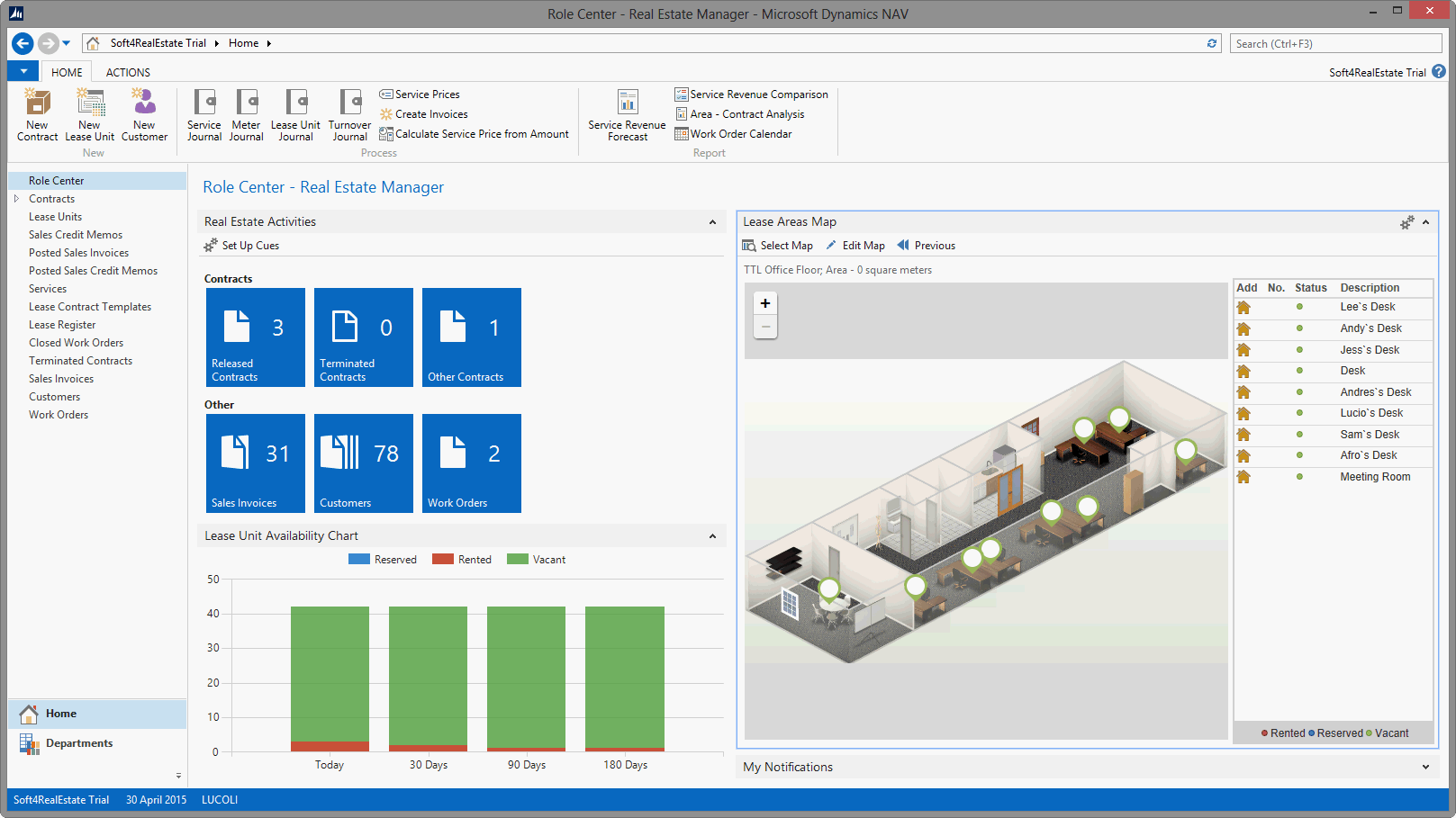 Have all the information you need right at your fingertips with Microsoft Dynamics NAV Role Based experience. No matter your role within the business, whether you work in Finance, Sales or Purchasing the role center gives you easy access to your daily tasks. By ensuring that the solution works seamlessly with Microsoft office products, training time will be reduced, encouraging people to work more efficiently.
Business analysis tools seamlessly integrate with other Microsoft office products such as Excel, Word and SharePoint, giving access to real time data. Regardless of where the data is entered, either managing tenants, contracts, inventory, works orders or invoicing it is fully integrated with the financial accounting function. 
Key Features of the software
Track and manage lease information
Set up multiple leases per tenant, and multiple units per leases
Assign numerous terms and charges to leases
Track property information for buildings and units
Create various types, categories, classes of detailed leases
Manage lease contracts: special conditions and events; unlimited number of of services and leases; multi-currency
Track meter and billing accordingly
Use predefined templates in order to speed up new contract preparation
Attach electronic documents and actual records


Integrated financial accounting
Offering you a rich accounting functionality in addition to property management functionality. With highly efficient accounts receivable tracking, you can create complete building, unit, lease, and tenant records to invoice your clients
Manage overdue debts: Using debts aging reports, specific reminders, calculate financial charges and fees


Build Flexible Pricing
Define price for a particular service and lease and for different periods
Calculate service amount using different scenarios: by leased area, by counters readings, by turnover or fixed
Calculate service price as a percentage of other services payment amounts
Set upper price limit for services on a contractual level
Price indexing is supported


Manage your potential and existing customers
Capture and track all tenant details and communication history in one system
Set up detailed invoicing and payment options
Access posted and pending documents quickly
Control fees for maintenance, heating, water and electricity
Calculate and charge Common Area Maintenance (CAM)
Maintain property maintenance history
Use work orders for tracking and managing service calls
Use flexible expense tracking and recoveries
Track property taxes and insurance information
View accurate service call costs


Enjoy easy to access real time reporting and statistics
Analytical and financial reporting by territory, building, sites or units
Detailed rent, lease status and sales reports
Request Information
Explore Industries
Watch the videos
MS Dynamics & the Cloud
Microsoft Dynamics 365
Microsoft Dyanmics NAV