Microsoft Dynamics 365 Business Central
Introducing Microsoft's next generation ERP solution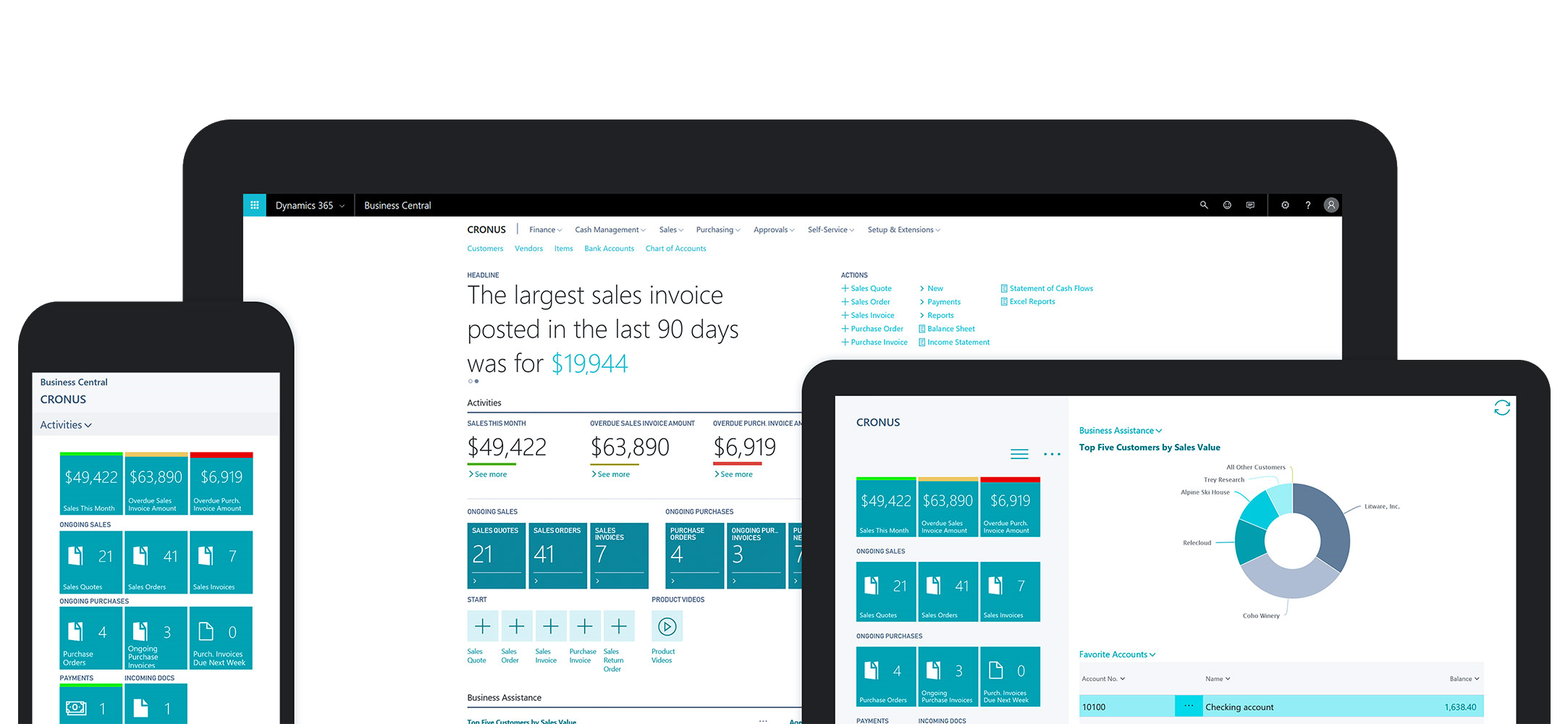 Microsoft Dynamics 365 Business Central was previously labelled as 'another paradise as the next generation of NAV,' and it seems to be living up to it so far! The solution is available on the cloud, on Microsoft servers, or on-premise (on one of our secure servers). It is specifically designed for businesses looking for an all-in-one business management solution, which brings together previously disconnected sectors of business, making it far more efficient and effective. It allows you to automate tasks from within your every day Office 365 tools and links together all aspects of your business; from sales and marketing to financials and warehousing.
Business Central is a powerful tool that can help slingshot your company into the cloud, running at its best, and allowing you to access, monitor and run your company from one single place. Business Central has advanced inventory warehouse management and even the option of discrete manufacturing and service management. It offers organisations a single, end to end solution for managing finances, operations, sales and customer service.
Business without silos - Unify your business, and boost efficiency with automated tasks and workflows—all integrated within familiar Office tools like Outlook, Word, and Excel.
Actionable insights - Achieve greater outcomes and gain a complete view of your business with connected data, business analytics, and guidance delivered by Microsoft's leading intelligent technologies.
Solutions built to evolve - Start quickly, grow at your own pace and adapt in real-time with a flexible platform that makes it easy to extend Business Central based on your changing business needs.
Features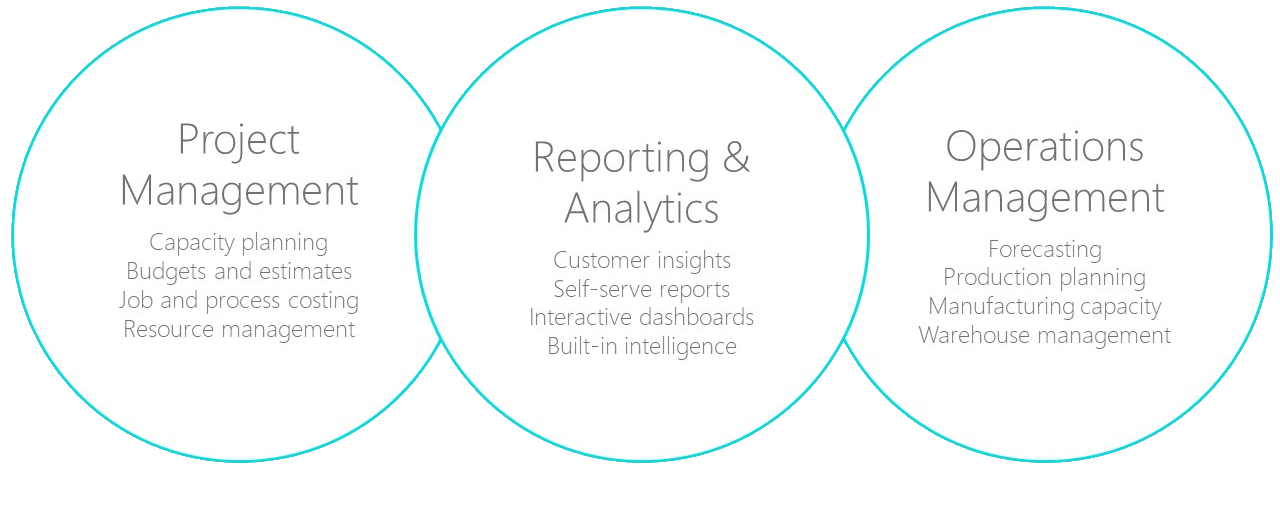 There are three tiers to Business Central that are available, each individually priced to cover different aspects of a business, depending on what you require.
Benefits
Without having clear insights across the different business processes, and be able to drive consistent reporting and predictive analytics, companies cannot make the right decisions at the right times. Dynamics 365 Business Central has different workflows that integrate for the success of the business, through unified processes.
All in one Business Management Solution
Dynamics 365 Business Central is a modern solution for modern businesses; it is an all in one business management solution that allows you to connect your business so that previously segregated sectors can now run together.
Make Smarter Decisions
It enables organisations, across these processes, to drive the predictive insights, consistent reporting, and make smart decisions faster.
Start and Grow Easily
Handle the most common business processes from day one, like quotes, orders, invoicing, purchasing, cash management, and reporting. It's built in the cloud, so it's easy to set up and manage.
Analytics and Reports at your Fingertips
Easy and ready to use reports using Power BI that is easy to share. You can create highly compelling dashboards, predictive analytics and IoT to transform data into actionable intelligence.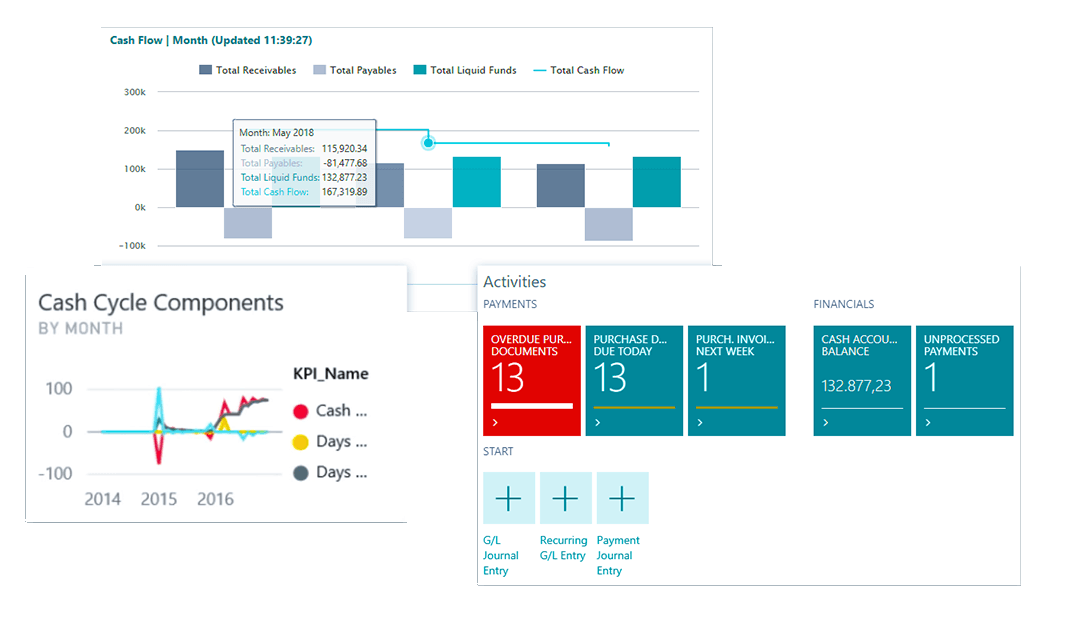 Installation & Support
We at Tres Tria will be happy to talk with you about your business needs, and goals, and discover the best solution for you; be that Business Central (Team Member, Essential or Premium) or even NAV.
We understand that it can be confusing, but with our range of Dynamics NAV and Dynamics 365 specialists and developers, we will be able to get to the bottom of what exactly you need and help guide you through the installation.
We are best known for our support after installation (or even if you already have a system), and always have professionals on hand throughout the day to answer your questions or help you in a tricky situation, so you will not be left alone with a brand-new system with no idea how to use it! Our support is based on a minute's system, which is completely unique, and allows you to only purchase as many support minutes as you need, be that monthly or weekly. For more information on our support, visit our software support page.
Why us?
At Tres Tria, we have a group of dedicated and devoted individuals who specialise in all things Microsoft Dynamics. Our motto is that it is not about racking up numbers or the big named companies but rather about the quality and value of the service you get. You can expect a personal experience all around; from our consultants to our developers and the operational team, we will go the extra mile.
We pride ourselves on looking after our customers which is why most of our support contracts tend to last a lot longer than most re-sellers.
No Time Like the Present - Get in Touch!
We make your business our business, our job is to understand your complexities and help you challenge them so that we can implement the right solution for you. That means discovering your current and future wants and needs and creating a bespoke system that works for you! We're here to make sure your business runs better, focusing solely on you, and we have a great team of experts that can help you do just that, this is why the majority of our customers have moved to us from other re-sellers. Thinking about taking the plunge? Get in touch and let us know how we can help you or just let us know if you would like more information on what services we offer.
Useful Guides
Watch the Videos
Welcome to D365BC
Introduction
Get Started
Demo