GDPR - what is it and how you can implement it into your system
---
Posted on 07 February 2018 at 15:54 UK time
---

GDPR, what is it and why is everyone going on about it?
GDPR is an important law that is soon to come into effect and will affect any business that holds any personal information on any individual within the EU. To summarise; it is a new law which has been in the makings for a while, and involves General Data Protection Rights for all EU citizens within any business which holds any personal data. Regardless of Brexit, any company within the UK will be legally bound to follow the GDPR law if they hold any information on an EU citizen. The law will come into effect in May 2018, so it is important, if you run a business, to make sure it is in compliance with the new law.
I'm not going to go into great detail about what the law entails, there is numerous information out there already, but if you fancy having a more in depth read about it why not have a look at the below:
A program to incorporate into your ERP software
Astral GDPR
As a Microsoft Partner, we at Tres Tria are a reseller of NAV and Dynamics 365, we offer a unique support package for both of these software's, so we have been hard at work to create a program that will allow your system to help you be GDPR compliant. Our programmers have been hard at work and have developed a program that we are calling Astral GDPR that can be incorporated into any version of NAV and 365. When this program is combined with your software, you will be able to see the 8 tiles along the top that represent the individual rights your company will need to take into account, these rights are:
The right to be informed
The right of access
The right to rectification
The right to erase
The right to restrict processing
The right to data portability
The right to object
Rights in relation to automated decision making and profiling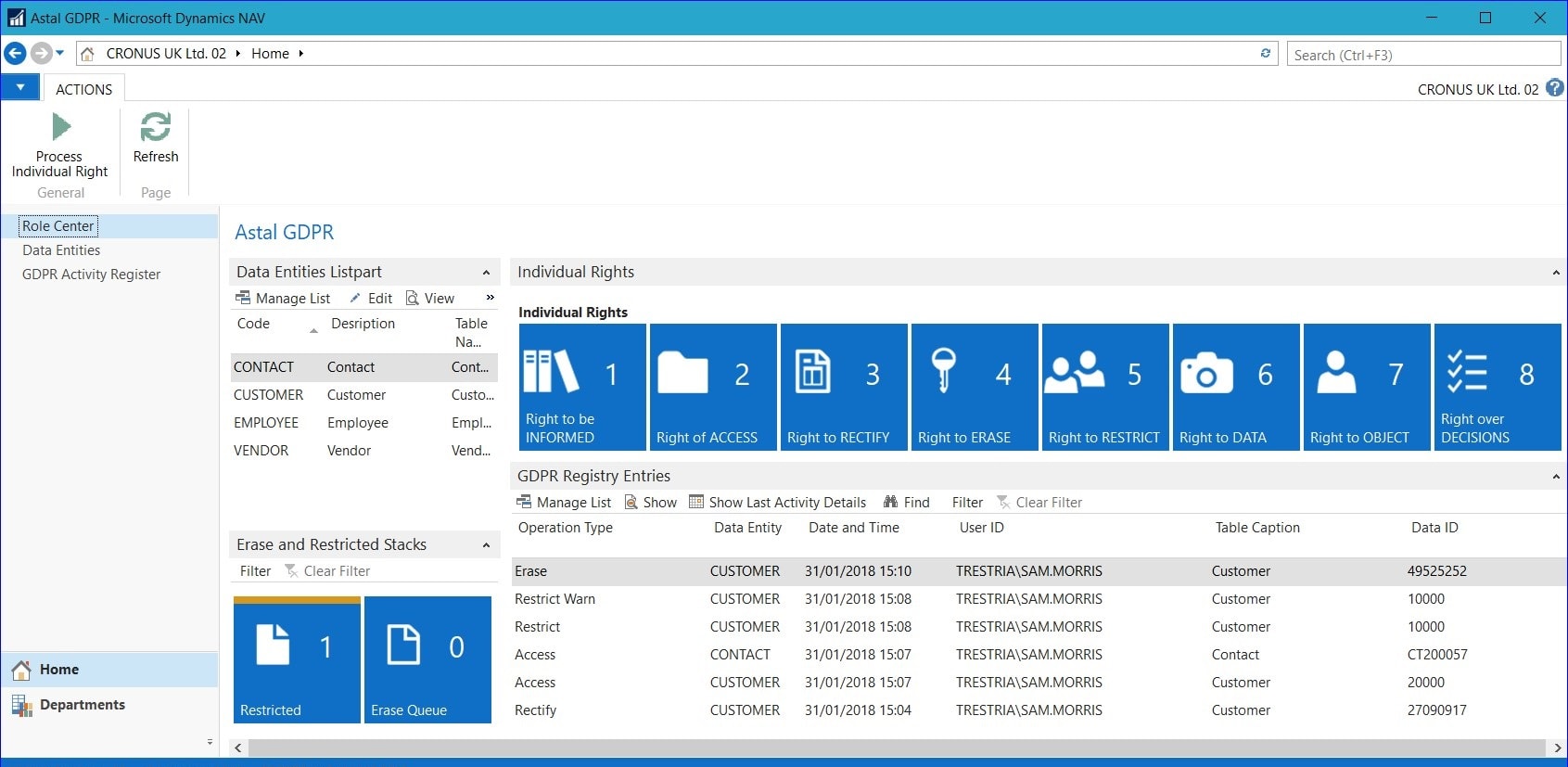 For a break down definition of each of the rights click here.
By clicking on the respective tile, you will be prompted by a window that will allow you to set specific restrictions to the current personal information that you hold on any individual. We know it can be a little confusing and daunting to understand, which is why we have made the programme as straight forward and user friendly as possible.
We will be uploading a more extensive guide to Astral GDPR shortly, where you will be able to find a detailed breakdown of what each function performs. In the meantime, if you're looking for implementation or support urgently, do not hesitate to give us a call and request further information, where one of our team will be able to talk you through the steps. You can also request further information from this page of our website by using the 'Contact Us' button - click here.
---