Astral Reports
Don't struggle finding the right reporting tools...
Let Astral Reports do the work for you.
Astral Reports is a simple yet powerful reporting tool, created specifically to extract data within Microsoft Dynamics NAV for it to be visible within Microsoft Excel. Now you have the ability to report from 'any table' and 'any field', straight out-of-the-box. Even custom ones.
Functionality
The functions have been designed specifically for 'high-end reports', such as Statutory Accounts or Management Accounts. These are typically summary level reports that do not require vast amounts of transactional data to be extracted from the system. The functions utilise the 'Flowfield' technology within Dynamics NAV, and as such, each function is tuned to retrieve data from the system in an efficient manner. They do not attempt to perform complex queries using inefficient keys, and will therefore not place a large burden on the performance of the database server. Furthermore, since the functions utilise C/Front and not ODBC, there is no need to download rows and rows of data into a separate worksheet before using complex VLOOKUP or SUMIF formulae to create a set of Financial Statements or Management Accounts. Since C/Front interacts with the Dynamics NAV executable file directly without the need for the User Interface to be open, the time saved in processing screen updates means that the functions can actually work faster than Dynamics NAV itself.
Once installed the functions will be visible in three places. Firstly a new 'Astral Reports' Menu Ribbon will appear on the toolbar, secondly, a new function category 'Astral Reports For Dynamics NAV' will appear in the Insert Function wizard, and finally, the cell Right-Click menu will contain two additional options.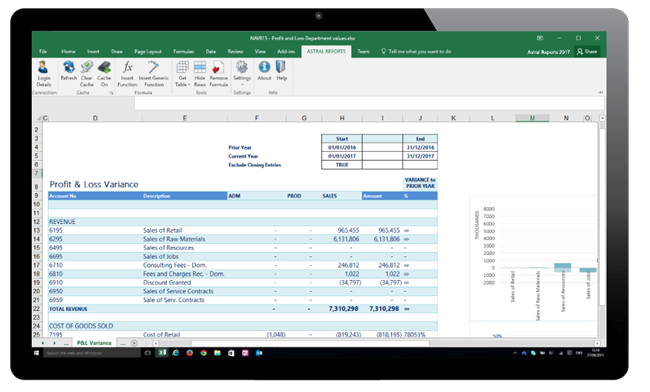 Powerful yet effortless reporting
Designed for Microsoft Dynamics NAV With your knowledge of Excel, you are already trained in using Astral Reports for Microsoft Dynamics NAV. Each function is intuitively named, making it easy to find what you are looking for. With easy to use wizards to guide you through the setup of each function.
Available for all versions of NAV
Predefined functions
Drill down functionality
Multiple Companies
Report from any field or table
Consolidation
Harnesses the Dimensional Analysis already in
Dynamics NAV
Astral Reports for Dynamics NAV has been specifically designed with managers in mind. Whether you are a Financial or Management Accountant, Departmental Manager or even the Managing Director, Astral Reports will allow you to build 'summary reports', which are instantly updated at the click of a button.
Quickstart your learning experience
Built within Microsoft Excel, expect a seamless integration, encouraging users to have the ultimate intuitive learning experience, that is easy to understand, and simple to use. Proudly sitting as the most intuitive reporting tool available for Microsoft Dynamics NAV. If you know Excel, then you're already 90% of the way there, to producing accurate up-to-date reports based on your ERP data.
No Time Like the Present!
We make your business our business, our job is to understand your complexities and help you challenge them so that we can implement the right solution for you. That means discovering your current and future wants and needs and creating a bespoke system that works for you! We're here to make sure your business runs better, focusing solely on you, and we have a great team of experts that can help you do just that, this is why the majority of our customers have moved to us from other re-sellers. Thinking about taking the plunge? Get in touch and let us know how we can help you or just let us know if you would like more information on what services we offer.
Useful Guides
Watch the videos
MS Dynamics & the Cloud
Microsoft Dynamics 365
Microsoft Dyanmics NAV