Astral Desk
The
ultimate

case and activity management solution.
Stay on top of customer cases with a clean dashboard using an all-in-one application!
Astral Desk is a powerful application that allows you keep-track-of and keep-on-top-of incoming, current and unassigned cases, no matter what type of industry you are in! The solution can be tailored to work with your business, however, the main sectors that it works best with is anything to do with:
✔ Support
✔ Complaints
✔ Quality Control
✔ Sales 
How it works
The solution is linked to an e-mail address where all initial processes are automated; it imports the information contained in the e-mail into NAV, assigns a unique case number and sends out an automated reply within minutes. The case is then placed in the 'Unassigned' folder until it is allocated to an individual. The beauty of the solution is that all cases relating to that particular service can be found in one place, including the details of who is working on that case and all the information related to it. This allows your business, and all relevant individuals, to have the ability to keep track of all cases at all times and monitor their progress.
Astral Desk also gives you the functionality to be able to follow relevant e-mail trails, as any e-mail related to that project is attached to the case and saved on the Desk. You also have the functionality to add notes to the case as well as set deadlines and due dates that will flag up as overdue on the dashboard if they are not marked as completed.
Upon initial set-up, a customer directory can be created with all current customers related to that specific service (such as if you have customers that pay for a specific type of support) that will allow Astral Desk to identify them and begin the relevant functions. If an e-mail is received from an unknown source it will automatically flag up on your system allowing you to manually decide what action to take. This feature allows you to filter through e-mails and send out immediate responses to relevant customers and flag any spam. Additionally, the Desk will automatically save any individual e-mails and information from anyone relating to the same company, or anyone, who has not been logged before.
The Astral Desk
Role Centre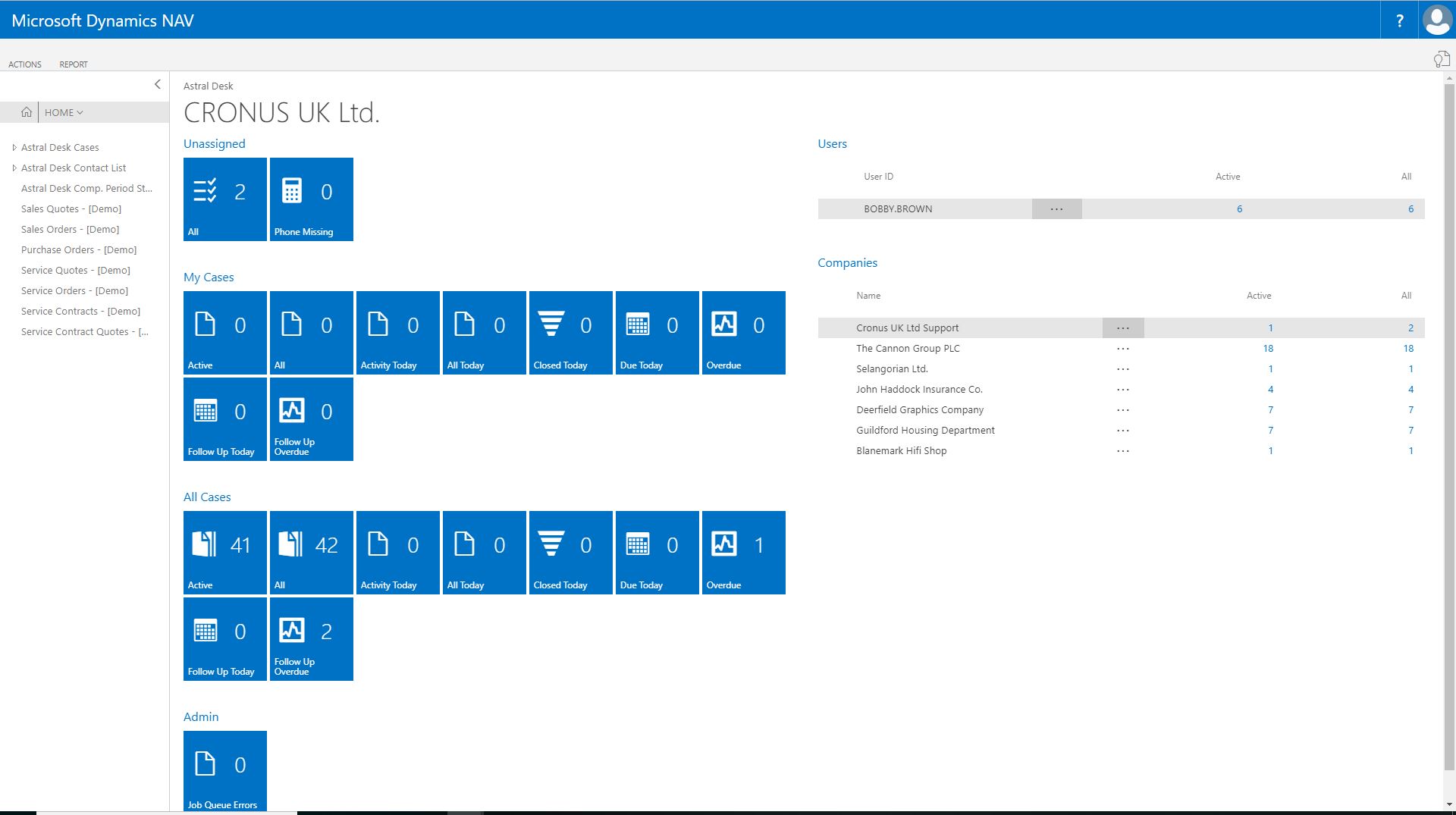 As you can see, there are three main sections to the Astral Desk role centre:
Within each section there are relevant tiles relating to different functions; these are all updated in real-time and will represent all cases for all individuals related to them within your company. 
Activity Today
Due Today
Follow Up Overdue
These tiles will show which stage a case is at; all the ones under 'My Cases' will be unique to each individual dashboard, but the ones under 'All Cases' will be the same.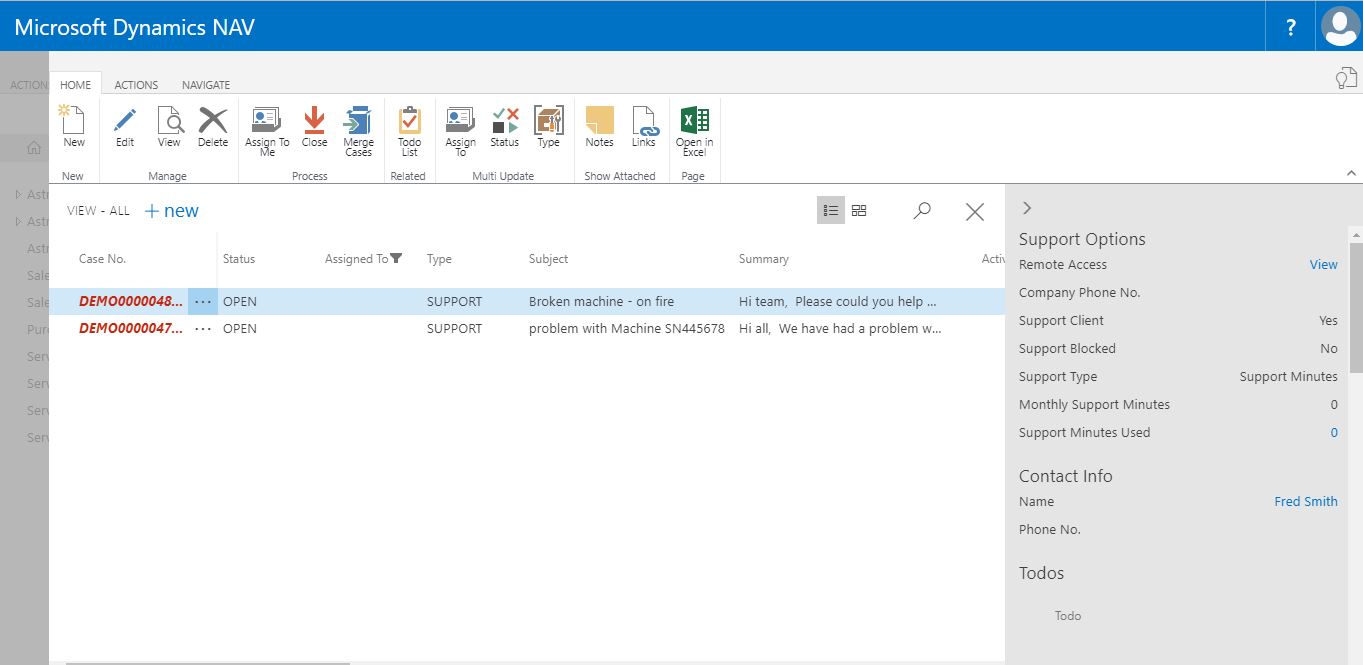 When a case is logged, a unique number is created (such as the number in red in the image above) and from here you can either assign it to yourself, using the 'Assign To Me' button on the top ribbon, or the 'Assign To' to assign it to someone else in particular.
The information that Astral Desk automatically pulls from the e-mail will populate as like in the image below: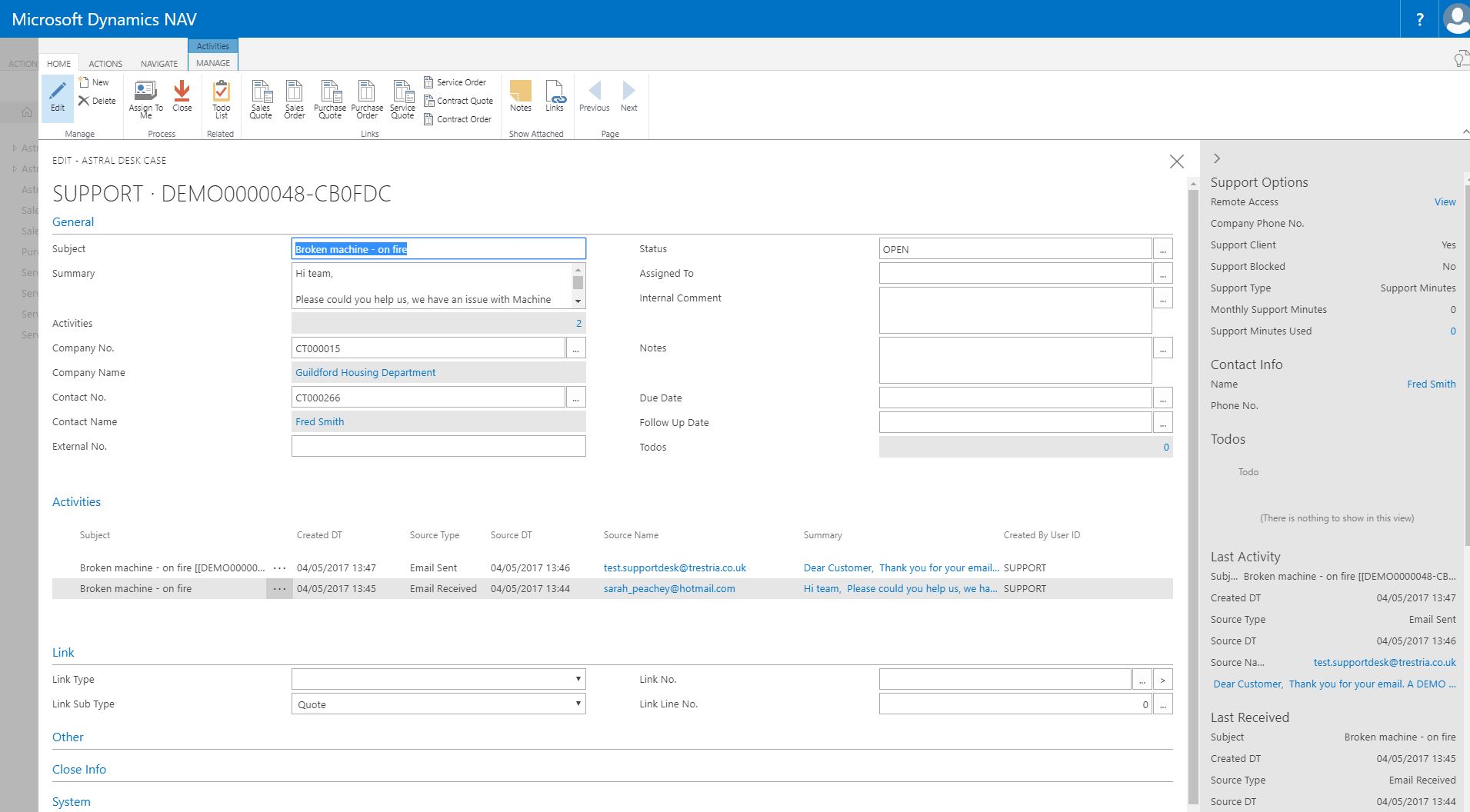 Within this section, you get populated boxes such as:
Automatically Populated:
Subject - uses the subject line of the e-mail.
Summary – the information contained within the e-mail.
Activities – how many e-mails there are relating to this same query.
Company Number – Desk identifies company name from the e-mail and assigns related NAV number.
Company Name - Desk identifies the company name from the e-mail.
Contact Number
Contact Name – Name identified from the e-mail and signature.
Status – represents what stage the case is at.
For Internal Use:
Assigned To
Internal Comment
Notes
Due Date
Follow Up Date
To Do's
The possibilities are endless with Astral Desk, and it can be completely customised to work with any sector of business.
Advantages
✔ Meet your SLA (Service Level Agreement) standards with the automated response and case assignments.
✔ Be able to see how many active jobs there are at all times.
✔ Stay on top of who is working on a specific case.
✔ Have all the information from every case readily available.
✔ Set deadlines, due dates and callbacks.
✔ Can be linked to individuals e-mails that don't directly deal with NAV but can still import their communications and cases (such as sales reps).
✔ Personalise the dashboard to reflect your business goals.
✔ Real-time activity taskbar on the right-hand side to allow you to keep track of all incoming and current cases.
✔ Have multiple desks which are linked to relevant e-mails such as support or complaints.
✔ Keep track of outstanding jobs/queries throughout the company.
✔ Always have access to all cases no matter where you are.
✔ (For management) Keep track of overdue cases, current cases, total cases logged and how many jobs each individual has/is looking after.
Company Example
As an example, let's say that you are a retail company that must deal with complaints and sales orders; you will have two separate e-mails for each department:
complaints@mycompany.co.uk
sales@mycompany.co.uk 
1. E-mail Received
When an e-mail is received in either inbox, Astral Desk will automatically import the information into NAV and create a case using a unique case number for each. You can set-up the case number sequence so it is easier to identify which case belongs to which department such as: cases beginning with COM0001 will belong to complaints, and SALE00001 will belong to sales.
2. Automated Response
Once the Desk has imported the information and set up the case number, it will send out a reply to the customer with an automated, pre-setup, e-mail that will acknowledge their submission and let them know the number allocated to them.
3. Awaiting Action
This case will then appear in the 'Unassigned' tile where employees will be able to see that there is an active case that needs to be responded to.
4. Assigning A Case
There are two ways to assign a case to an individual: firstly, from in NAV using the 'Assign To' action, or secondly, by replying directly to the e-mail from Outlook. By doing the second option, Astral Desk recognizes that the case has been responded to and will assign the case to the individual that has replied.
5. Resolving the Case
Any e-mail correspondence that takes place between the customer and the employee will be logged within the case on Astral Desk in NAV. This can be achieved by replying to the automated e-mail; as long as all correspondence regarding that case is replied to through the original e-mail, Astral Desk will be able to save all conversations to the system. The bonus of this is that it allows any other employees to be able to follow the case, and, if the assigned employee is away or out sick, someone else is able to pick it up and identify the conversation history.
No Time Like the Present!
We make your business our business, our job is to understand your complexities and help you challenge them so that we can implement the right solution for you. That means discovering your current and future wants and needs and creating a bespoke system that works for you! We're here to make sure your business runs better, focusing solely on you, and we have a great team of experts that can help you do just that, this is why the majority of our customers have moved to us from other re-sellers. Thinking about taking the plunge? Get in touch and let us know how we can help you or just let us know if you would like more information on what services we offer.
Useful Guides
Watch the videos
MS Dynamics & the Cloud
Microsoft Dynamics 365
Microsoft Dyanmics NAV